Kubernetes is an open-source service. Basically it is used for automation deployment,& containerized applications management. It is also Known as K8s. First, we can create a Amazon EKS cluster. Amazon cluster provides to create a numbers of nodes. We can create one or more nodes into a node group. Node group is a one or more Amazon EC2 instances.
There are some steps to create Amazon EKS node group:
Step 1: Login to Amazon Web service portal.
Step 2: First create a Amazon EKS cluster Follow this post for how to create EKS cluster. https://www.hackerxone.com/2021/08/20/13-steps-guide-to-create-kubernetes-cluster-on-amazon-web-serviceaws/
Step 3: Click on Created EKS cluster name.

Step 4: Click on Compute & Click on Add Node group.

Step 5: Provide a name for node group.
Step 6: Create a IAM Role for Node group.Click on IAM console.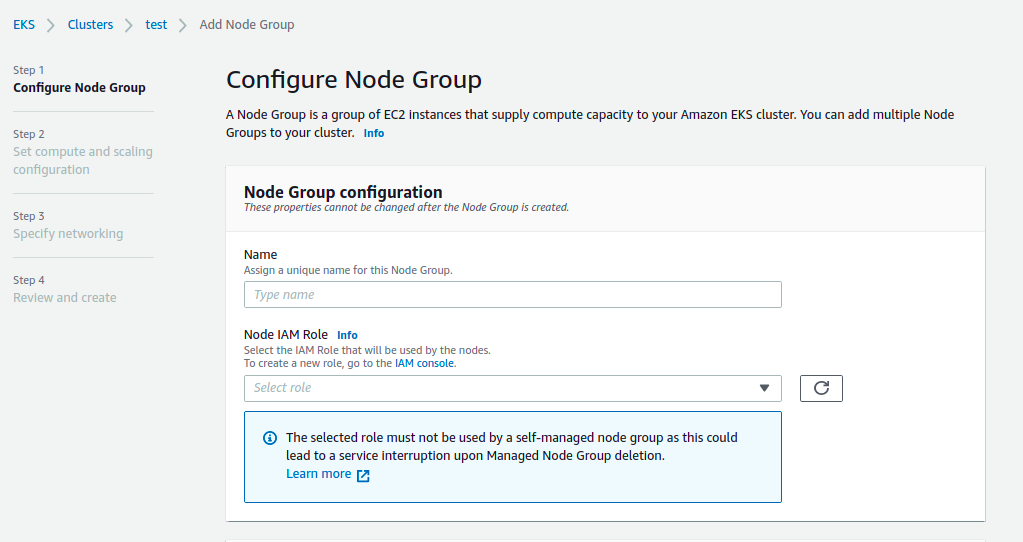 Select AWS service.
Click on EC2.
Click on Next:Permission.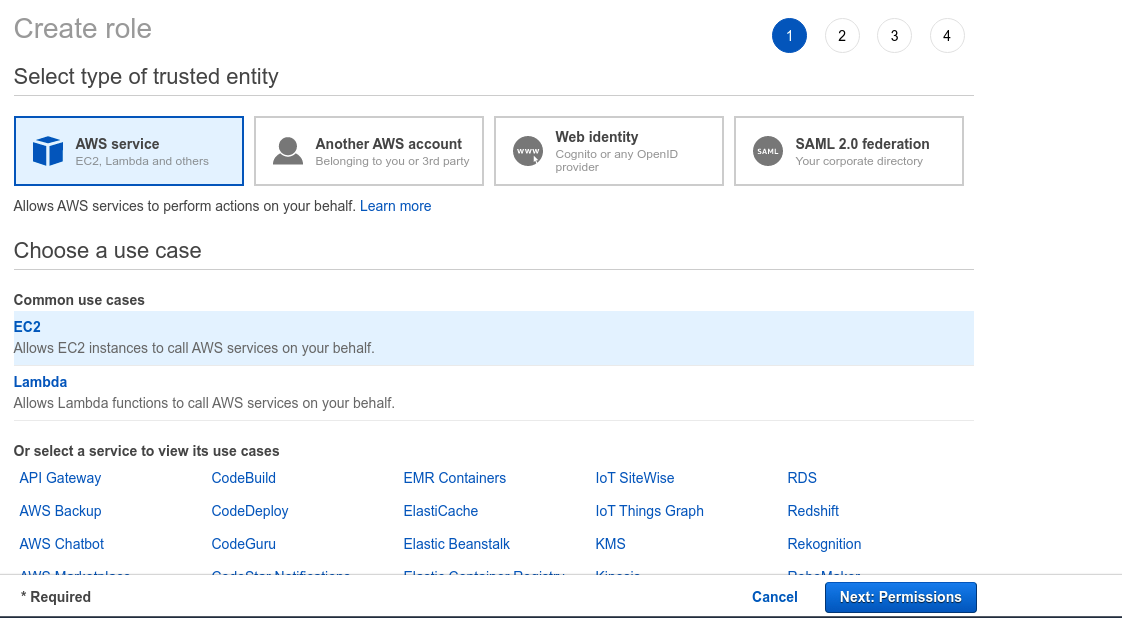 Search & Select the following policies: AmazonEKSWorkerNodePolicy , AmazonEC2ContainerRegistryReadOnly.
Click on Next Tags.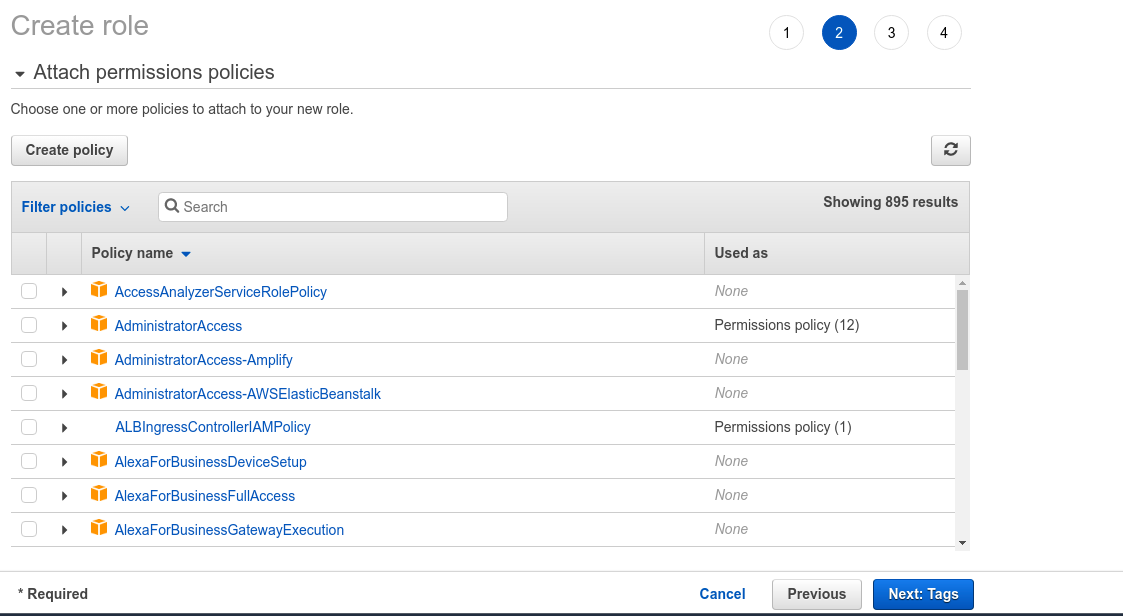 Provide the key name & value for IAM role.
Click on Next Review.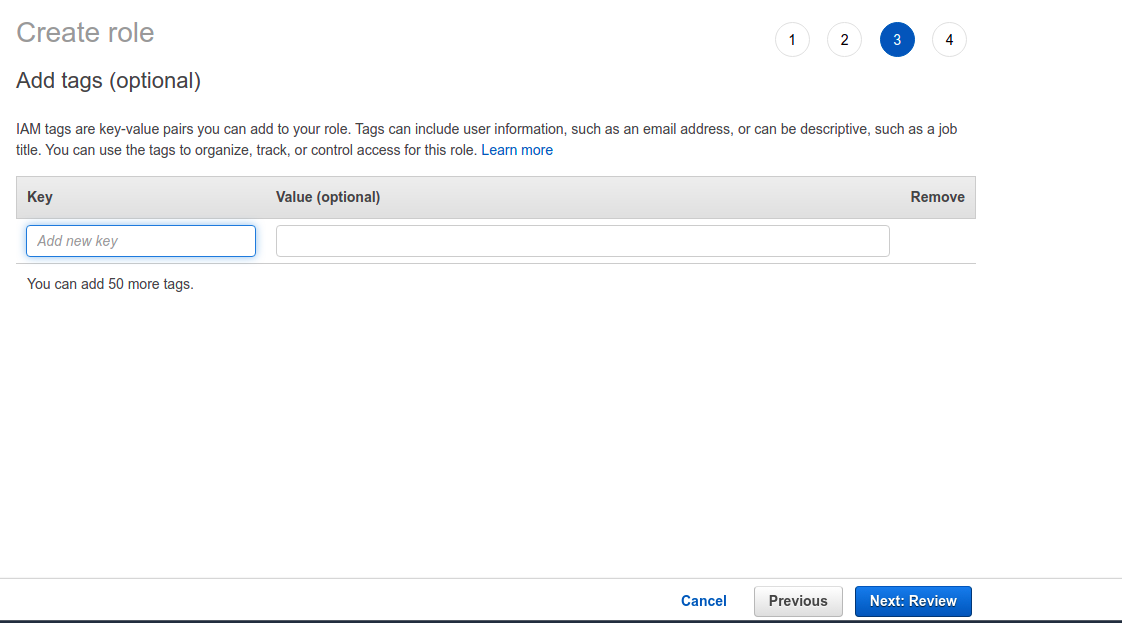 Provide the Role name.
Click on Create role.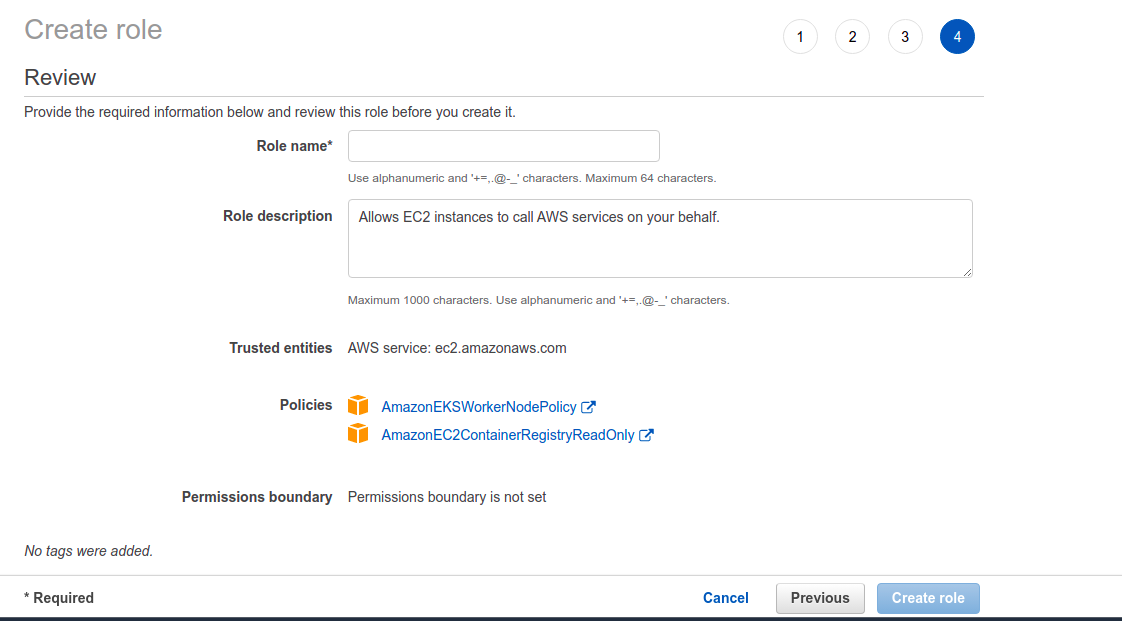 Step 7: Now,select the created IAM role for Node group.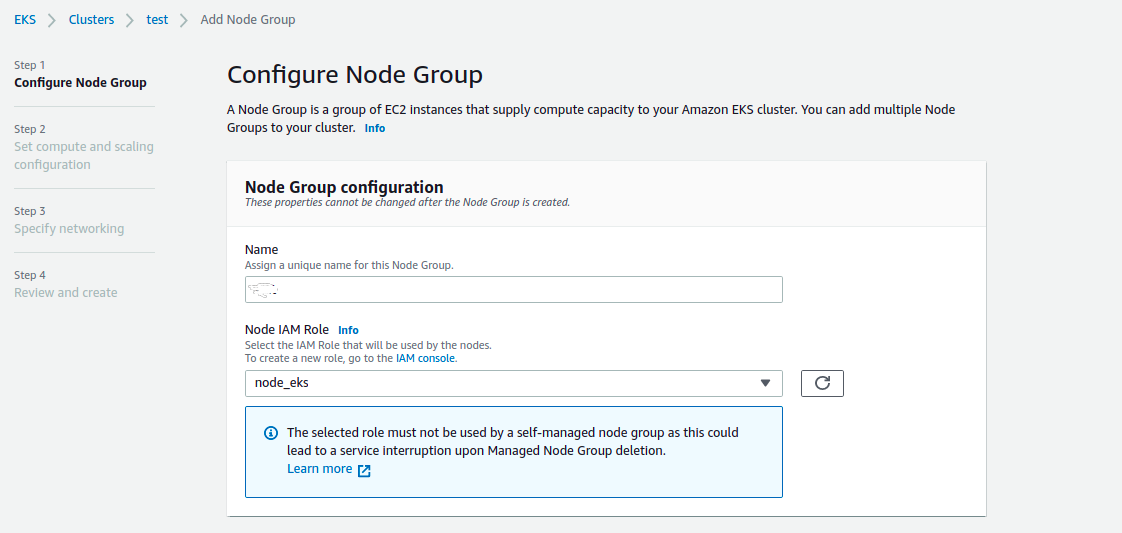 Step 8: We have another option to create node group using Launch tamplate & we can Add Kubernetes Labels & Taints.Kubernetes Labels is a key/value pairs.It is used for identify Kubernetes objects.Taints is used for allow a node to repel a set of pods.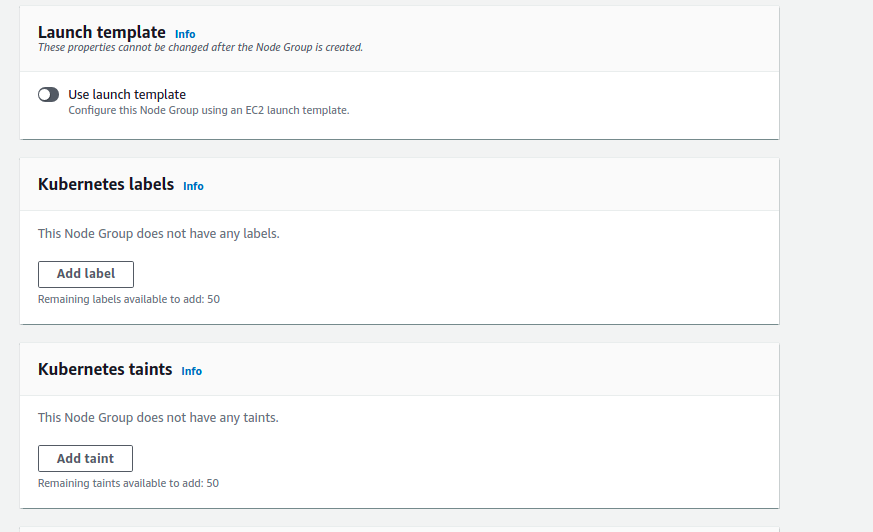 Provide a key name & value for node group.
Click on Next.

Step 9: Next is Node group compute configuration.Select AMI type,Capacity type & Instance type.
Provide a Disk size in GB.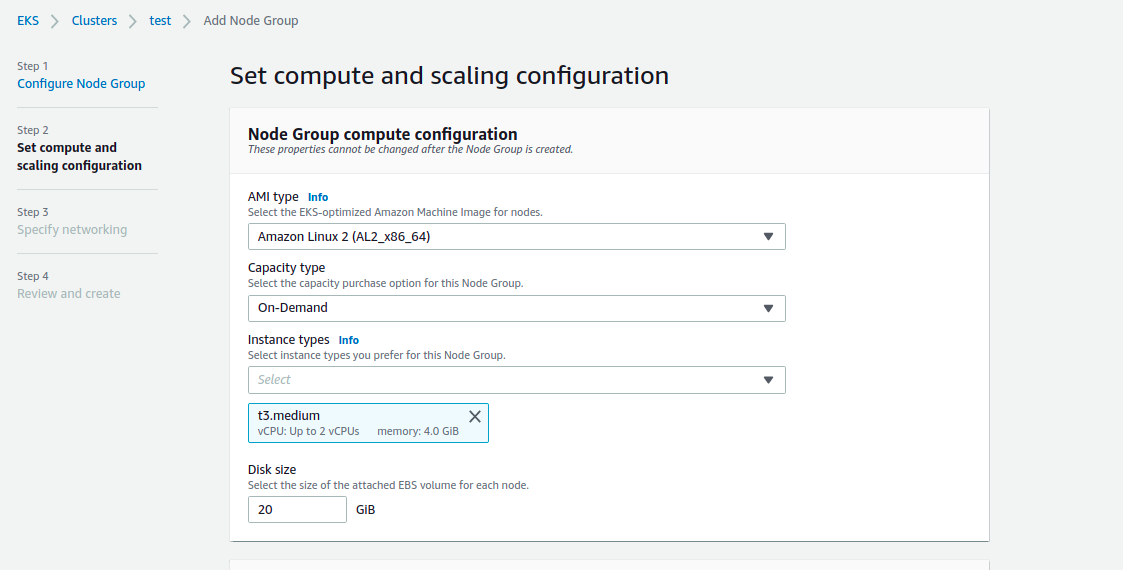 We can configure the auto-scaling on Node group.Provide the min & max number of instances(Node group).

Provide a number or Percentage of unavailable nodes to be tolerated during node group updation.
Click on Next.

Step 10: Select the existing Subnets.
Enable the SSH access to nodes.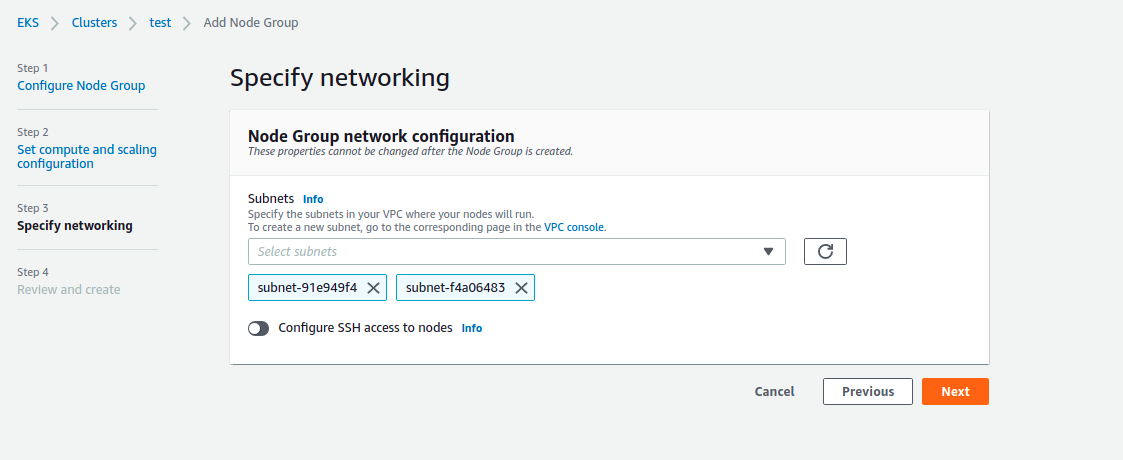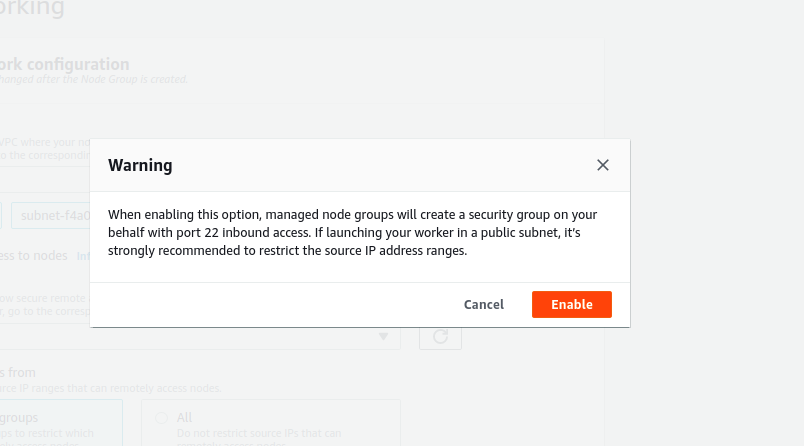 Select the existing SSH Key Pairs.
Select the existing Security Group or Allow the SSH access to All.
Click on Next.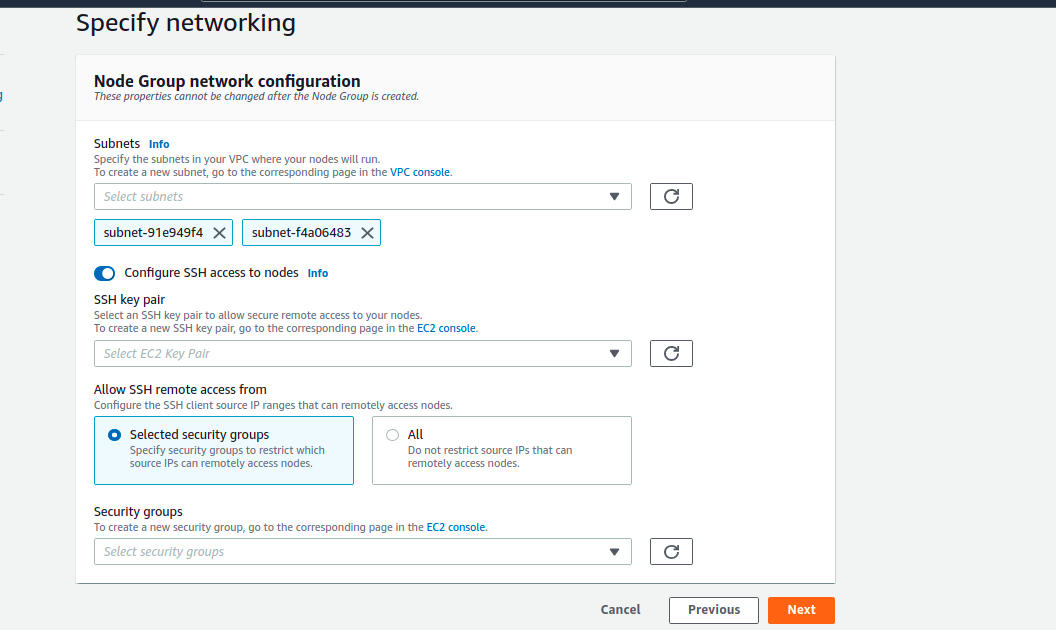 Step 11: Review the configurations.


Now, Node Group is Creating.

Create Kubernetes Cluster Node group using Shell
# Create Public Node Group
eksctl create nodegroup –cluster=cluster-name \
–region=us-east-1 \
–name=node-group-name \
–node-type=t3.medium \
–nodes=2 \
–nodes-min=2 \
–nodes-max=4 \
–node-volume-size=20 \
–ssh-access \
–ssh-public-key=ssh-key-pair-name \
–managed \
–asg-access \
–external-dns-access \
–full-ecr-access \
–appmesh-access \
–alb-ingress-access
# List NodeGroups
eksctl get nodegroup –cluster=<clusterName>
# List Nodes
kubectl get nodes -o wide